CoagSense INR Analyser
The Coag-Sense™ PT/INR Monitoring System is a unique point of care INR test system capable of directly detecting clot formation, representing a breakthrough in PT/INR testing.
Accurate results, fast
The Coag-Sense™ analyser measures the prothrombin (clot) time directly using mechanical means. This is the same method employed by the World Health Organisation. By avoiding the use of look-up tables or curve fitting algorithms employed by other PoCT analysers, the CoagSense™delivers accurate results quickly when performing INR tests.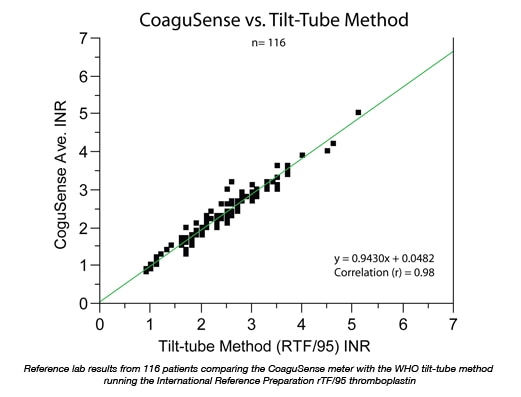 Superb Precision
Coag-Sense's™ patented micro mechanical detection system delivers superbly reliable results that are incredibly precise - professionals have achieved CV's of 2.5 % when testing INR under clinical conditions. In contrast to devices that use electrochemical methods of detection, the concentration of blood constituents not involved in clot formation isn't required to produce results. This improves performance and reduces the variability (imprecision) of results which is a common cause of issues in other systems.
No Red Blood Cells Necessary
The CoagSense™ employs micro mechanical methods to detect clots, which means that re-calcified plasma control strips can be run as easily as whole blood. This mimics how a patient test is undertaken providing greater confidence in QC tests and also means that there is no detrimental effect when haemoglobin or haematocrit levels are low. This is a typical reason for inaccurate results in devices that employ electrical currents to determine formation of the blood clot.
Small sample size, easy dosing
A capillary (fingerstick) sample of only 10 µL is needed to run an INR test on the CoagSense™. The sample is easily collected and then applied to the test strip using pre-measured sample transfer tubes (supplied with tests) which reduces strip waste caused by unsteady hands.
True Quality Control
Quality Control (QC) testing is used to verify the integrity of both device and reagent (test strip) performance. CoagSense™ QC tests contain the same thromboplastin (reagent) used in the patient test strip and are dosed using plasma of known INR value. Due to this, CoagSense™is the first system to offer true high and low control strips which truely test the entire system performance and most importantly, the thromboplastin itself.
Other Benefits Include:
Portable, yet stable design
Mains or battery powered for convenience
Barcoding on each test strip – no calibration code input or chip required
Strip design eliminates cross contamination risk
---
We Also Recommend