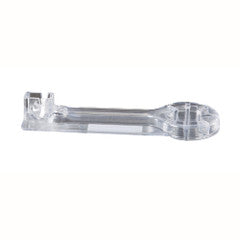 Coag-Sense professional test strips (50)
Introducing the Coag-Sense™ PT/INR Test Strip Kit for use with the Coag-Sense™professional PT/INR analyser.
CoaguSense Coag-Sense™ Professional Test Strips Kit contains 50 Patient Test Strips, 54 Sample Transfer Tubes, 2 each High & Low Control Strips and 1 Control Activation Solution Vial.
By directly detecting the clot, the Coag-Sense™ system avoids the challenges that plague other systems that use secondary means of clot detection like monitoring changes in impedance or pressure. For example, the concentration of red blood cells or other substances in blood sample can affect results in the measurement process of those products. The Coag-Sense™ system simply lifts the fibrin clot from the reaction well which interrupts a light beam. The PT time is the actual time from when the blood sample is applied to when the clot is formed. This produces results similar to the gold standard WHO tilt-tube methods.
Small sample size (10 µL minimum) for easy dosing.
Accurate results in less than a minute.
Offers true controls using the actual thromboplastin and plasma.
No test strip refrigeration required.
The first PT/INR system to directly detect clot formation.
Certified by the Theraputic Goods Administation (TGA) for use by professionals within Australia.
---
We Also Recommend