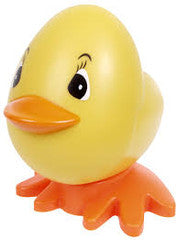 Super Duck Baby Bath Thermometer
TempTeller Super Duck water thermometer is a delightful bath thermometer that beeps when the water is too hot. Quick and easy to use, the duck switches on automatically when the body is lifted from its feet. An LCD display on the ducks back tells you when it is safe for baby.
The Super Duck is a great tool to help make bath time safe for children. Babies and children will feel most comfortable if the water temperature is between 35 – 37 °C and the LCD display gives you peace of mind knowing the temperature is just right. Just place the Super Duck in the water for fast, accurate results. If you're busy with other jobs whilst running a bath and the temperature gets too hot, Super Duck will sound a warning so you can quickly make an adjustment – he's got your back!
Extremely easy to use
Wide temperature range
Automatic power on and off
Displays HOT COLD or BATH on screen
Digital thermometer on back
What Puts the Super in Duck?
Many of us here at POCD are parents and we all use the Super Duck during our own children's bath times. Everyone loves it because:
He's robust and won't break when knocked about by heavy handed babies and toddlers.
Children love him – Super Duck doubles as a great toy for them to play with at bath time and encourages zen.
Super Duck is cute and looks great standing on it's feet when not in use.
So easy to use – lift and drop into the water. Super Duck is a great swimmer and will bob around happily.
Like children, Super Duck only complains if he's not happy! If the water gets too hot you'll be alerted to do something about it.
He's a trooper – many of us have children who are 5 years old + and SuperDuck continues to work with the original batteries!
With such a long lifespan and amazing personality Super Duck may well be the best value purchase you make for your children. It is also a great gift idea for new parents or baby showers. Life with children is busy – let Super Duck look after the bath temperature, there's so many other things to do!
---
We Also Recommend