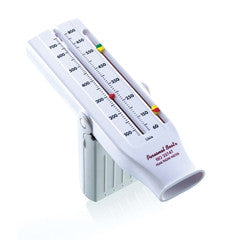 Personal Best Peak Flow Meter (Full Range)
Personal Best Peak Flow Meter (Full Range)
The colour coded indicators define three zones which make it simple for the user to know what percentage of their peak flow they are achieving. Personal Best is simple to use and store.
The fold-out handle keeps the hand away from the airstream, aiding good technique for an accurate reading, and also forms part of the protective casing.
3-Zone Asthma Management is colour coded to make it clear for user
Green zone 80 – 100% of personal best
Yellow zone 50 – 80% of personal best
Red zone 50% or less of personal best
Features and Benefits
Fold-out handle
Protective storage case
Screen printed, easy to read scale
Built-in adjustable asthma management zone system
Universal range (60 – 800 L/min)
Conforms to International Standard ISO 23747
Universal scale is suitable for adults and children.
Oval mouthpiece is more comfortable for patients to use.
ABS plastic construction, stainless steel moving parts for reliable performance.
Patented flow-sampling technology minimizes wear, maximizes accuracy and repeatability. 

Dishwasher safe making it easy to clean.
Specifications
Accuracy: +/- 10% or 10 L/min
Repeatability: ≤ 5% or 10 L/min
Linearity: ≤ 5% or 10 L/min
Resistance to flow: ≤ 0.35 kPa/L/min
Frequency response: ≤ 12% or 15 L/min
Scale resolution: 10 L/min from 60 – 700 L/min - 20 L/min from 700 – 800 L/min
Main body: ABS plastic
Cover and handle: Polypropylene
Scale: Hot-stamped, alcohol-resistant
Measurement range: 60 – 800 L/min
---
We Also Recommend