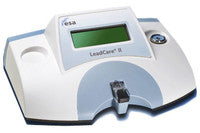 LeadCare II Blood Lead Level Analyser
The world's only CLIA-waived blood-lead analyser, LeadCare II improves clinical outcomes and is ideal for GP surgeries, health clinic, indigenous health, mine-sites, outreach screening programs and veterinary applications. No other system offers the simplicity, accuracy, and immediacy of the LeadCare II.
The LeadCare II analyser offers a fast, accurate and inexpensive way to perform blood-lead level measurements with only 2 drops of blood, right in your office or on-site for immediate results.
The compact and very simple to use LeadCare II system delivers quantitative blood-lead results comparable to those reported by reference laboratories in just 3 minutes, removing all the complications previously associated with blood-lead testing.
Developed in conjunction with the CDC, LeadCare II provides the important information to initiate immediate treatment when necessary or offer peace of mind when not.
The LeadCare II is widely used by paediatricians, family practitioners, public health, and military clinics worldwide.
No more waiting days for expensive lab analysis, or worrying about losing track of a child that needs follow-up care. LeadCare II delivers quantitative lead levels equivalent to those reported by outside laboratories in just three minutes. It improves patient care by providing on-the-spot results, cuts your staffs' result-tracking and administrative time.
The LeadCare II Analyser Kit contains the Analyser and training materials.
Quick Specifications
Point-of-care results in just 3 minutes – eliminates multiple visits
Simple to operate – no special training required
Capillary samples (2 drops, 50 µL) – easier for patient, parent, and staff
Accuracy and sensitivity you can count on – comparable to reference lab tests
---
We Also Recommend