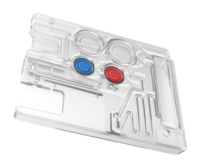 HemoScreen FBC Cartridge (pack of 100)
Packet of 100 FBC cartridges.
Lab-on-a-cartridge
An innovative disposable cartridge with automatic sample preparation: The simple design facilitates fully automatic sample processing. Each cartridge includes all necessary reagents and is factory calibrated. The reagents and sample remain safely within the cartridge during and after measurement, preventing cross contamination.
Minute reagent volume
Robust
Simple design
Viscoelastic Focusing (VEF)
VEF is a new physical phenomenon protected by over 20 patents. VEF causes cells to perfectly align into a single layer, facilitating their optical analysis. In contrast to the standard hydrodynamic focusing, VEF requires no diluent and is not sensitive to clogging or vibrations. It is therefore the key for miniaturisation of flow cytometry.
---
We Also Recommend