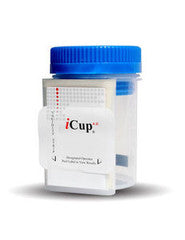 SureStep - 6 Panel Drug Test with Adulterants
The SureStep drug test kit is the simplest-to-use, instant urine drug screening kit that provides quick results in seconds.
Once the specimen is collected in the all-inclusive drug testing kit, the lid is secured so there is zero exposure to the collector! The drug test kits start working immediately and results are revealed by simply peeling back the result label. A negative result is shown with two lines and a positive is shown with one line in the urine drug test panel. The SureStep drug testing kit detects the 6 classes of drugs under the Australian standard. Adulterant Tests – Oxidants, Specific Gravity, & pH. Each case includes: two-part result forms, package insert and instructions.
Inexpensive
Complies with AS/NZS 4308:2008 Appendix B.
Easy-to-use
99% accurate
Results in seconds
Zero exposure to collector
Has an 18– to 24 month self life
Built-in validity test (adulteration) offered
Results can be photocopied
---
We Also Recommend