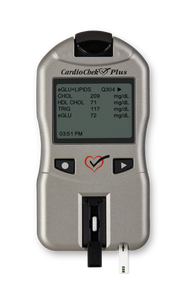 CardioChek® Plus Analyser
The CardioChek Plus analyser is quick and convenient to use. It is a cost-effective, user-friendly diagnostic point-of-care analyser, which uses test strips to accurately determine lipid and other values in as little as 90 seconds using electro-chemistry technology.
The CardiChek Plus can measure Lipid profile and glucose at the same time. 
We are the master agents for Australia and New Zealand.
Helping People around the World
Fast – Full lipid panel in as little as 90 seconds; single blood chemistry in as little as 45 seconds
Economic – compact and lightweight, making it economical to transport and easy to store
Easy – portable, handheld, battery-powered, and easy to use
Patient-Friendly – fingerstick with sample size of 15 to 40 µL
Flexible – Measures total cholesterol, HDL cholesterol, triglycerides, glucose and more. Also provides calculated LDL and TC/HDL ratio.
Uses all PTS Diagnostic Panels and the eGlu Test strip
We recommend using the PTS Smart Bundle: Lipid + eGLU Panels which allows you to get accurate lipid and blood glucose results in as little as 90 seconds, from one fingerstick!
Certifications
CRMLN Certified for CHOL and HDL test strips
CLIA-waived

Meets NCEP for guidelines in accuracy and precision

WAND Registered

FCC and ISO Certified 

wireless communications
---
We Also Recommend