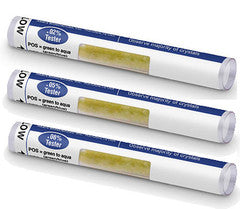 BreathScan Alcohol Test - 0.02% - (Box of 20)
The BreathScan® alcohol tester is a disposable breath-alcohol indicator designed for one time use. It provides an accurate measure of the alcohol present in the exhaled breath of the test subject. By measuring the alcohol content in the breath, a reliable indication of the blood alcohol level is achieved.
Portable and disposable
Available in 0.02 %
Results within 2 minutes
Easy to use
Affordable alcohol detection system
BreathScan® provides you with a portable alcohol testing solution that is small enough to fit in your pocket, purse, or glove box.
Possible delay in supply as product may need to be ordered in.
---
We Also Recommend