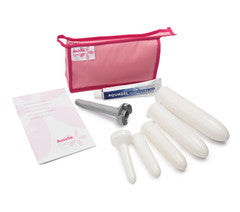 Amielle Comfort - Full Kit
Amielle Comfort Range
A gentle self treatment for painful sexual intercourse
Painful sex is a very distressing problem, which may have a detrimental effect on relationships with partners. Thousands of women experience painful intercourse or problems with vaginal penetration, so you will be relieved to know that you are not alone. Amielle Comfort dilators have been developed to help in the treatment of conditions that cause painful sex.
For further infomration visit the Amielle Comfort micro site www.time2talksexualhealth.com
Package Contents
Set of 5 graduated dilators with universal handle, lubricant and a discreet bag.
Please note It is inadvisable to share this product with other people.
---
We Also Recommend