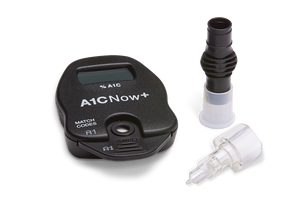 A1cNow Plus HbA1c Test System 20 Pack (PROFESSIONAL USE)
PLEASE NOTE: THIS ITEM IS FOR PROFESSIONAL USE ONLY
What truly differentiates the A1cNow+ is the ability to accurately perform a HbA1c test without the large investment usually required to purchase a standalone HbA1c test machine – there is absolutely no set-up cost because the analyser is included FREE with the HbA1c test kit!

WE DO NOT SHIP THIS PRODUCT ON A FRIDAY
STORAGE: PLEASE REFRIGERATE UPON ARRIVAL IF LONG SHELF LIFE IS REQUIRED, 4 MONTH SHELF LIFE IF KEPT AT ROOM TEMPERATURE



10 Reasons why you will love this portable analyser and HbA1c tests
Results are ready in 5 minutes. No waiting days for the lab.
Requires only a small (5 µL) blood sample from a fingerpick.
Lab-quality results. Certified by the National Glycohemoglobin Standardization Program (NGSP).
Device displays clear, step-by-step instructions.
Training is not required – simply start testing as soon as you receive the kit.
Absolutely no maintenance or manual calibration required.
Battery-operated and can be easily transferred between treatment rooms or locations.
Small, portable HbA1c meter can go wherever you go. Ideal for rural and regional Health Practitioners and Diabetes Educators throughout Australia.
Patient-centred goals for the improvement of health can be set in real time.
The test procedure is based on proven immunoassay technology.
Like the sound of what you hear?   
In clinical settings the complications of trialling and gaining approval to purchase a more expensive dedicated desktop based system can drag on for years. Instead you can buy an A1cNow+ test kit for a fraction of the cost and be up and running in days!
The A1cNow+ provides a great, low-risk way for you to easily experience the advantages of HbA1c testing on-the-spot.
The A1cNow+ is Fully Certified (so you can be confident with your results)
† Restricted for professional use only
---
We Also Recommend