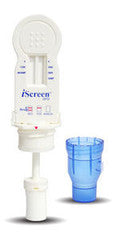 iScreen Oral Fluid Drug Test
The iScreen OFD 5 panel oral fluid drug test device uses the simplicity of a one piece-one step oral drug test kit that provides fast accurate results. iScreen Oral fluid drug kits are less invasive and cannot be adulterated by the donor. The iScreen oral fluid 5 panel drug test, is a non-invasive method for the detection of multiple drugs in oral fluid. Be aware that oral drug tests have a shorter detection time period than urine drug tests and will point to recent drug usage within 24–48 hours instead of 1–2 weeks. Record drug test results in just 10 minutes. iScreen oral drug kits can be used on-site any time, anywhere.
Test Features:
Integrated Testing Solution
A mouth And Gum Swab With Built-In Test
Easy To Read Results
Confirmation Ready
Simple Procedure
Delivery Time: Please note this product takes 10-15 working days to arrive from the time of purchase as it is not a 'stocked' item. A more specific ETA will be provided within 24 hours of purchase. 
---
We Also Recommend