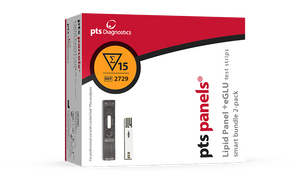 CardioChek: PTS Smart Bundle- Lipid and eGlu Panels (Pack of 15)
Lipid panel test (tests HDL, Triglycerides, HDL, and a calculated LDL) on one test strip while Glucose is tested on the eGlu test strip. To be used with 40 µL collection tubes and CardioChek Plus Analyser.
2x Vials of 15 test strips.
---
We Also Recommend